Leenvit® Omega 3+6+9 Cardio
Boost Your Endurance, Stamina and Strength!
4.2 fl oz (125mL) Bottle (monthly supplementation)
Leenvit Cardio, along with proper lifestyle choices may have a positive effect on your overall health.
Supports reduction of arterial hypertension (aids with elasticity of blood vessel walls)
Helps with inhibition of atherosclerotic plaques formation, resulting in reduction the risk of stroke and myocardial infarction
Positive impact on the circulatory system through heart rate stabilization – anti-arrhythmic effect
Supports blood clotting processes – anticoagulant effect
Regulates lipid profile (increase of HDL cholesterol fraction and decrease of LDL, triglycerides, total cholesterol)
Rich and natural source of Omega 3+6+9
Plant-based formula
Perfect combination of unique nutrients
A taste you will enjoy
No risk of allergy to fish and shellfish-based supplements.
Vitamin E – protects against oxidation of low-density lipoprotein cholesterol.
Vitamin K – lowers the risk of atherosclerosis-related cardiovascular diseases.
Coenzyme Q10 – assists with restoring optimal levels of energy production, reduces oxidative damage and improves heart function.
These statements have not been evaluated by the Food and Drug Administration. This product is not intended to diagnose, treat, cure or prevent any disease. Information on this site is provided for informational purposes only. It is not meant to substitute for medical advice from your physician or other medical professional. You should not use the information contained herein for diagnosing or treating a health problem or disease or prescribing any medication. Carefully read all product documentation. If you have or suspect that you have a medical problem, promptly contact your regular health care provider.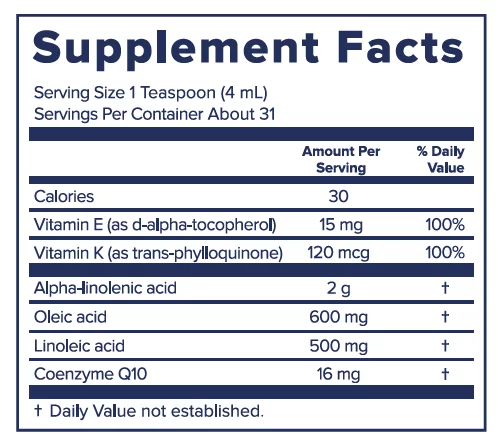 As key building blocks for cells, Omega 3 fatty acids are fundamental to our health and wellness. They are not produced in our body and must be included in the daily diet. The Omega 3 family of fatty acids are converted, on demand and in the quantity required, into their derivative forms, EPA and DHA. By providing Omega 3 ALA, LEENVIT delivers the essential ingredients to meet your EPA and DHA requirements as needed without risk of overdose.
LEENVIT is unique in its high concentration of Omega 3 ALA fatty acid in pure form. Easily absorbed, it can provide 100% of the Reference Daily Intake (RDI) for Omega 3 Essential Fatty Acids in the correct proportion to Omega 6.
Just one teaspoon (4 mL) provides approximately 2 g of pure Omega 3 ALA.
In addition to being components of cell membrane lipids, Omega 3+6 Unsaturated Fatty Acids found in LEENVIT are starting material for biosynthesis of eicosanoids, and are involved in the transport and oxidation of cholesterol.
Ethyl esters are the purest and safest form of Omega 3 available:
easy absorption and high bioavailability (24h)
3:6 golden ratio
essential cell building blocks
safe – no toxicity
pure ingredients
stable – no oxidation
amber soda-lime glass bottle minimizes light exposure, ensuring freshness of the product and extending its shelf life
Recommended serving
1 tsp / 4 mL daily during a meal. Natural product – deposits may form.
Storage
Keep out of reach of children. Store at room temperature in a dark, dry place. Do not use if seal under cup is broken or missing. Avoid product contact with plastics. Refridgerate after opening and consume within 3 months.
Warnings
Do not exceed daily serving recommendation. Nutritional supplements should not be used as a replacement for a healthy balanced diet. If you are pregnant, nursing, taking any medication or have a medical condition, please consult your healthcare provider before taking any dietary supplement. Talk to your doctor prior to giving to children under 12 years of age. Discontinue use and consult your healthcare provider if any adverse reactions occur.